Products
Products:

0

piece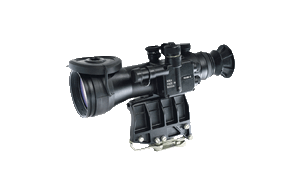 enlarge image



SERVICE MANUAL

PRINT VERSION
PN19K-5
Night Vision Sight
Night sight PN19K is intended for aimed shooting from hunting weapons type «Tigr», «Tigr-1», «Tigr-9», «Tiger-9-1», «Saiga», «Saiga-5,6», «Saiga-5,6C», «Saiga-9», «Saiga-9-1», «Saiga-9-2», «Saiga-20», «Saiga-20K», «Saiga-20C», «Saiga –М3», «Saiga-308», «Saiga-308-1», «Saiga-308-2», «Saiga-410», «Vepr», «Los-7», «Los-7-1», «Bars-4», «Bars-4-1», weapon with «Picatinny» strap («Weaver rail»), weapon with «Stownera» strap, and apart from that there is an adaptor strap for self-installation of the sight on the consumer's weapon.

The sight is produced with the one of the three objective lenses with F27, F80 or F135. Overfocusing of the objective lens with 27 mm focus provides clear objects image at a distance of 0,5 m to infinity, with the focus of 80 mm – from 4 m to infinity, and with the focus of 135 mm – from 60 m to infinity.

The sight is equipped with the Image Intensifier Tube (hereinafter referred to as – IIT) Gen 2+ or Gen 3, which provides recognition range of 350-450 m. The sight with IIT Gen 2+ is intended for use under natural night illumination conditions at (3-5)x10-3 lx, i.e in star light without clouds and moon light. The sight with IIT Gen3 is intended for use under illumination less than (3-5) x 10-3 lk, with clouds and without the moonlight.

The sight is designed to operate in an open air environment within a temperature range of +40 °C to -40 °C and relative humidity up to 98% at the temperature of + 25 °C.

The sight provides target detection, recognition and aimed shooting at direct shot distance under natural night illumination.

Recognition range of the sight depends on natural night illumination, atmosphere transparency and contrast between target and background. High ambient illumination, moonlit night, some external booster light, light background (sand or snow) increase the recognition range. Low ambient illumination, low clouds, low atmosphere transparency and dark background (tillage, forest etc.) decrease the recognition range.
Specifications

Generation of image intensifier
2+ (3)
Magnification, x
135F/2
Field of view, deg
7,5
Recognition range, m
500 (600)
Eye relief, mm
40-50
Diopter adjustment range, D
from 4 to 5
Power supply voltage, V
1,2-1,5
Time of continuous operation, h, without IR illuminator/with IR illuminator
15/3,5
Integral photocathode sensitivity, µA/lm, Gen 2+/Gen 3
500-600/1500-1800
Resolution limit, lp/mm
57-64
Conversion coefficient
25000
Weight, kg
1,26
Overall dimensions, mm
272x92x93
Used together with: