Products
Products:

0

piece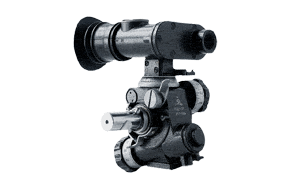 enlarge image

PRINT VERSION
PAG-17
Automatic Grenade Launcher Sight
Sight is intended for direct and indirect laying of automatic grenade launcher SPG-9V (6G8). The sight is equipped with mechanism of laying for direction and elevation. There are cross and longitudinal levels. For dark time operation, the illumination of aiming reticule and laying scales is provided. Reticule consists of elevation and deflection scales.
Specifications

Magnification, x
2.7
Field of view, deg
13
Limiting resolution, arc.sec
28"
Eye relief, mm
27
Exit pupil diameter, mm
4.5
Elevation and direction angle scale, mil
0-01
Angular range in direction, mil
60-00
Angular range in elevation, mil
-14-00 till 90-00
Overall dimensions, mm
124х117х145
Weight, kg
1.0
Used together with:
©2013 NOVOSIBIRSK INSTRUMENT-MAKING PLANT. ALL RIGHTS RESERVED.