29.03.11
IDEX-2011 Exhibition
IDEX-2011 Exhibition in Abu Dhabi (United Arab Emirates) on 20th-24th February 2011. IDEX-2011 International Military Exhibition is organized every two years. In 2011 it was held in the 10th time. This is one of the largest exhibitions in the world in Land Forces themes, in which our enterprise always participate. The Near East – a capacious market for selling of the military and double-purpose products.
Russian exposition was represented not only by official delegations of FSMTC, Minpromtorg, SC "Rostechnologii", FSUE "Rosoboronexport", but also by 30 Russian manufacturers. Russian delegation was headed by deputy director general of FSMTC M.V. Petukhov, from the side of FSUE "Rosoboronexport" – director of special assignments N.M. Demidyuk, from the side of SC "Rostechnologii" – deputy director general I.N. Zaviyalov. There were manufacturers of weapon, to which our enterprise offers its sights, among them the following enterprises can be pointed out – JSC "V.A. Degtyarev Plant" (ZID), JSC "Izhmash", JSC "Bazalt". Manufacturers of the armoured vehicles were also represented at the exhibition – JSC "Arzamas Machine-Building Plant", JSC "Motovilikhinskiye Zavody", PLC "Scientific and industrial corporation "UralVagonZavod", JSC "Kurganmashzavod". But this time none of them brought samples of armoured vehicles. Because of it Russian stand made more modest impression than, for example, the Ukrainian one, where some full-size samples – BTR-4, T-72, BMP-2 – were demonstrated. The largest stands belonged to such countries, together with host country of the exhibition, as the USA, Germany, Turkey, France, Italy, China. To compensate a lack of large military equipment FSUE "Rosoboronexport" showed the work of interactive complex at its stand. As it was declared, the complex is one of the best training systems in the world, which can operate in 3D mode. At the exhibition it was demonstrated in flat 2D mode. Different fighting vehicles move on the screen accompanied by dynamic music, they take firing position, go into action, get blown up with mines or, opposite, defeat the enemy at duel situation. It is possible not only to model various tactical situations but also "look" into vehicle's bodies, observe how loading mechanisms work, see how much ammunition is left, and so on. Naturally, it allows evaluate competence of commanders of military units and vehicle crews. The central object of interactive action was new Russian development – fighting vehicle of tanks' support BMPT.
At the exhibition PJSC "PA "Novosibirsk Instrument-Making Plant" was represented by director general Yu.V. Metelskiy, head of foreign trade department S.Yu. Maslikov, regional representatives of our enterprise: director of company AST Mr. Majd Khabbaz and interpreter I.A. Litvinova. At our stand the following devices were demonstrated: 1PN93-4, 1P78-1, PN-14K (2 versions), PN19K-3, Rakurs-PM, and also "Tandem" consisting of Rakurs-PM and PN21K, including transitional bracket (from side mount to "Picatinny" rail). Among new devices it is worth to point out sight PN23, night vision monocular PN21K, laser range finder with ballistic calculator LDM-2VK. In the first day of the exhibition our stand was visited by the first deputy Minister of Defense V.A. Popovkin, who learned about a sample of our new night sight PN23 (1PN93-2-1) with the great interest.
Yu.V. Metelskiy talk to the first deputy Minister of Defense V.A. Popovkin.
By the beginning of the exhibition the magazine ARMS in English had been edited, where we placed an article about our enterprise and advertising material.
South African company "Megaray" produces very powerful illuminators, which work with infrared filters infiltrating wavelengths of 850 and 930 µm. Operating distance of MR175 flashlight – up to 3 km, weight – 4 kg (plus battery – 3.5 kg). A representative of this company was interested in usage of our monocular PN21K for visualization of illuminated target. For this purpose the flashlight has "Picatinny" rail.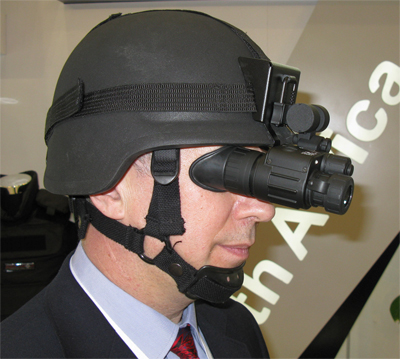 South African company ZEBRA ARMOUR demonstrated plenty of samples of protecting helmets at its stand. Mount of PN21K on helmets of NATO standard (with visor) turned out quite convenient and reliable. Issue of further development of cooperation in the region was discussed with Mr. Majd Khabbaz, our regional representative. Mr. Khabbaz appreciated highly a sample of new monocular PN21K. This device was also interesting for many other visitor of the exhibition. Another important direction of work is promotion of the new sight PN23. Reaction of visitors showed that it is very interesting offer for market.
American and western companies were widely represented at the exhibition. We would like to mention participation of companies producing similar products (except above-mentioned): ITT (USA), ATN (USA), Newcon Optik (Canada), Aimpoint (USA), EOTech (USA), Swaroeski Optik (Austria), Carl Zeiss (Germany), Theon Sensors (Greece), Aselsan (Turkey), ProOptica (Bulgaria), Peleng-Belteh (Belorussia), L-3 Communication (USA), MKU (India, Jaguar-14 monocular with weight of 280 g, very similar to monocular of "Katod").
To increase the efficiency of exhibiting activity it is necessary to market our new products – night sight PN23 (with improvements), day-night sight PDN22, dual-range aiming device ZLN-2K, devices PNN14, PNN11, new range finders and others. Financial well-being of the enterprise greatly depends on promotion of new products.
To pass to the list of news