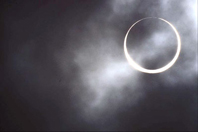 17.06.11
LUNAR ECLIPSE IN NOVOSIBIRSK
On the night of 16th of June the Novosibirsk's astrophysicists had a chance to observe the first in 2011 full lunar eclipse, which was also broadcasted online... There were organized 3 grounds: at the Novosibirsk State University (NSU), at the astrophysical center being under construction and at the roof of the laboratorial building of the Siberian State Geodesic Academy.
More than 20 people were watching the eclipse with their own eyes through the telescopes TAL-125 and TAL-200K. Photo and video recording were also organized.
Online broadcast of the event from the observatory "Vega" (NSU) attracted about 3 people per second. "This is a good indicator", said the director of the observatory Alfia Nesterenko. - "That means that people are interested in the life of real sky objects".
See more at
http://news.ngs.ru/more/92285/
To pass to the list of news