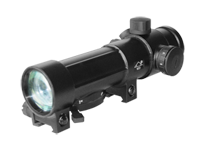 01.07.11
PRE-PRODUCTION MODEL OF PSU
Specialists of PA "NIMP" have produced a pre-production model of PSU, which is referred to the new generation's sights produced at "NIMP"... This is a universal sight with discrete zoom from 1x to 4x, which provides quick and precise aiming under any conditions, allowing a hunter to react instantly to a situation change and successfully hit the target.
The sight provides excellent quality of image under any weather conditions. Reticle illumination with 7 grades of brightness allows shooting not only by day but also in the twilight.
Sight's body is made of solid aluminium alloy, it is shockproof and watertight. Fully watertight design with internal optical adjustment provides high reliability of the sight under any operating conditions.
The sight is possible to mount on different kinds of rifled hunting weapon of .308 caliber with mounting seat of "Picatinny" rail type with length not less than 105 mm.
To pass to the list of news